The Bridge Blog
A dialog about our new bridge and these web pages
Overview. Schools and universities are all about learning - and learning is mostlly brain training. Learning is expedited by repetition and forgetting is expedited by infrequent use of learned skills or information. Tracking the building of the Ravenel Bridge and now tracking the demolition of the Grace and Pearman Bridges bring many questions to me and help me better understand the role Google and the Internet play in just-in-time learning. I enjoy chasing my curiosity and want to identify ways to encourage younger learners to also enjoy curiosity chasing and learning.
Many young learners do not understand the importance of repetition. More important, while experienced learners understand the learning process they often do not realize the destructive effects of the forgetting process. Over the course of the bridge project, I have access to only a few experts. Rather than a liability, this has become an asset and pushed me to improve my search skills with Google. Soon, I realized that answers to questions encountered during my photo adventures were often only a Google-search away. Gene Stead, my first boss and I put these ideas together in a small essay: (see Restoring the Joy in Learning).
Google + Internet have become dependable extensions of my memory. Insights I gain from you and this project will find their way into the learning centers in our schools and universities.
Sun, 29 Jan 2006
January 29, 2006: Lessons learned from building the Ravenel Bridge.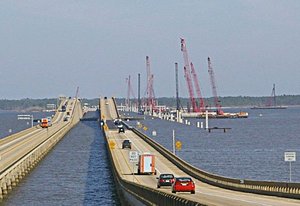 Several people have asked about how these pages got started. This is easy: I started these web pages as a way for my grand kids to follow the building of the Ravenel Bridge. But a number of people are curious about my access to the building site. Several months ago, I as asked this question during a Channel 5 TV interview and I simply replied, "I smile". It was a serious answer.
There are two ways to become involved in a project - the front door and the back door. The front door is always obvious and usually opens to a receptionist who directs you to someone. The back doors are usually hidden, but with some practice, you can find the back doors. These doors lead to the men and women that do the building and unbuilding.
When I started building the Ravenel Bridge web pages, I simply took photos and wrote short photo essays for the kids. I was not looking for either front doors or back doors. But Bill Mankin of High Steel Structures in Lancaster Pa contacted me about the web site - and without knowing it, opened a back door to High Steel Structures. They fabricated the structural steel used to build the main span. David Wertz, then with SCDOT opened doors. Somehow, Olivier Forget of Freyssinet (in Paris) found the web pages and opened another back door and introduced me to the complexity and excitement of cable stay bridges. Then Bill Mankin sent email stating that his team would be in Charleston to drill and ream the splice plate used to join the east and west spans and maybe I would like to watch. Not knowing what to do I phoned PBC and Marvin Tallent answered the phone. I described Bill's request and soon Marvin introduced me to Peo Halvarsson (superintendent of the Main Span) and Wade Watson, who directed the entire project. Bill, David, Marvin, Peo and Olivier became my professors of bridge-ology and through their eyes, I saw and gained insights into the complexity of their project. Because of them, my goal shifted from a grand kids project to one of telling the unseen stories of bridge building.
The project ended - Wade returned to Tidewater Virginia, but Peo and Marvin made their way to Pensacola Florida where they are working on rebuilding the causeway (I believe, part of I-10). Our friendships have extended beyond the completion of the Ravenel Bridge and a few days ago, Marvin sent me a photo of their project (above) and announced that he had just purchased a new digital SLR camera. Marvin is also a serious cyclist (of the bicycle variety - whereas Wade was a serious cyclist of the Harley-Davidson variety). We are keeping our eyes open for opportunituies to ride together over the Ravenel Bridge. We did this several times before the bridge opened, but that did not count. Somehow, riding together over the completed bridge will provide a nice ending to the story of building the Ravenel Bridge.
When the Unbuilding project started - Ken Canty and Ponch Billingsly provided back door access to the Pearman-Grace project. However, the web site, I soon discovered, provided for them a way for their families in Boston and other places to watch their husbands at work. Tina Hebb and Kathy Billingsley were the brave souls that initially encouraged me to engage not only the workers here, but their families there. Their families as well as members of other families (Hal, Joy, Shannon, Corey, Donna-Rae, Joshua) joined the email discussions. Now they are my professors along with Bob McCabe, Pio Monsini, Michael Hebb, Jackie Foley, Neal Meyers and Richie Bagen. Through their eyes I have continue to learn more about building and unbuilding - not just bridges but life. What a learning experience these men and their families have brought to me. The lesson for me is about sharing - first with my grand kids and then with the world. Sharing via the Internet created social contacts that would not have happened without the Internet. The Internet is our new learning tool and for me, adds to the fun of the day.

posted at: 07:21 | path: | permanent link to this entry