The Bridge Blog
A dialog about our new bridge and these web pages
Overview. Schools and universities are all about learning - and learning is mostlly brain training. Learning is expedited by repetition and forgetting is expedited by infrequent use of learned skills or information. Tracking the building of the Ravenel Bridge and now tracking the demolition of the Grace and Pearman Bridges bring many questions to me and help me better understand the role Google and the Internet play in just-in-time learning. I enjoy chasing my curiosity and want to identify ways to encourage younger learners to also enjoy curiosity chasing and learning.
Many young learners do not understand the importance of repetition. More important, while experienced learners understand the learning process they often do not realize the destructive effects of the forgetting process. Over the course of the bridge project, I have access to only a few experts. Rather than a liability, this has become an asset and pushed me to improve my search skills with Google. Soon, I realized that answers to questions encountered during my photo adventures were often only a Google-search away. Gene Stead, my first boss and I put these ideas together in a small essay: (see Restoring the Joy in Learning).
Google + Internet have become dependable extensions of my memory. Insights I gain from you and this project will find their way into the learning centers in our schools and universities.
Thu, 21 Jul 2005
July 21, 2005: Transition from building to unbuilding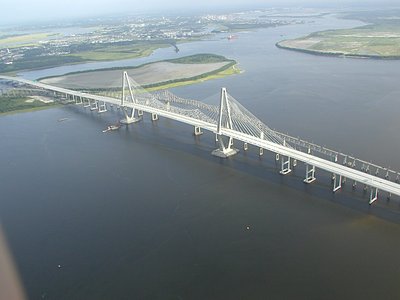 The construction of the new Cooper River Bridge is complete. The fireworks and opening ceremony, from my perspective, breathed new life into our community. Certainly use of the bicycle and pedestrian walkway during the first days demonstrated both their utility and the vision of the bridge sponsors.
There is a first chapter and a last chapter with every story and our bridges are no different. I have started preparations for keeping our stories alive, now as historical documents. As a first step, I am moving the Internet address of the Ravenel Bridge story to http://ravenelbridge.net. This will provide a stable location and facilitate transition of the site to a future home, perhaps the Charleston Public Library or the Historical Society. I have not explored this with any agency, but it seems to me that our web site (yes, not mine) would be better preserved under the leadership of a public agency.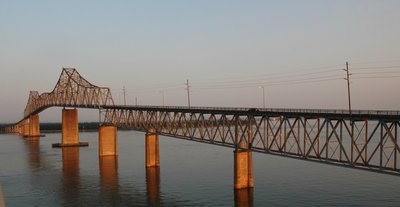 Yesterday I started the first chapter of the unbuilding of the Grace and Pearman bridges. I have moved the Internet address for our new story to http://oldcooperriverbridge.org. I shall continue to take weekly, and in some cases, daily (early morning and late afternoon) photos of the Charleston approaches, Mt. Pleasant approaches and the main bridge spans. In addition, I will build a new section addressing engineering issues and insights, similar to the Engineering and Close-ups section I developed around the construction of the Ravenel bridge.
Many of you have fed me ideas and questions. As we start our new story, please continue to write me. Let our learning continue!.


posted at: 13:16 | path: | permanent link to this entry